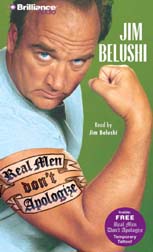 ABC was smart enough to bring back the long running "According to Jim." If you haven't seen the show it centers around Jim, played by Jim Belushi author of "Real Men Don't Apologize," who is married and has three kids. He struggles each week to remain the king of his castle. The show has been on since 2001.
This season the show was hardly promoted and airing at different times. It almost felt like they were just burning off the episodes so they can later sell them off to syndication. It's owned by the network that airs it.
My only regret about the sitcom/famcom staying around one more year after a year of it hardly airing or being promoted,is that Jim and the rest of his hilarious cast and writers are locked up for another year and will be unable to give us other shows or movies. What a loss.