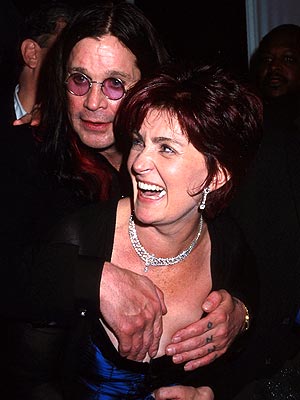 Rosie did not completely kill the variety show. The Osbourne's are continuing their plan to stay relevant by singing and dancing. To see see the show live, they are practically begging you to go. Remember, no Hannah Montana Tickets. They ain't that desperate.
Just in time for the holidays we have a very special promotion! Attend a show of our choice and you can get tickets to any show of your choice in 2009! Please read on for more details...
The Osbournes are back on primetime TV with a new show on FOX and from the producers of American Idol and America's Got Talent! The show features huge celebrity guests, music performances, and comedy sketches, blended with game shows and studio audience participation, giving it a similar feel to classic variety shows with the exception that it will feature the Osbournes and their unique…tastes.
Can you think of a better way to bond with family and friends then by spending a couple of hours together in close quarters with the Osbournes?? Just in time for the holidays, we'll give you a chance to realize that there are indeed families more dysfunctional than your own. The show tapes early evenings in Hollywood on December 10th, 12th, 16th, and 19th and the minimum age to attend is 18.
SPECIAL PROMOTION: If you attend the taping of The Osbournes on Wednesday, December 10th or Tuesday, December 16th we will reward you with a priority ticket to ANY show of your choice in 2009 that we provide tickets to!!! To redeem this offer, print a ticket for the 10th or the 16th and write 'OCA 2009' on the top left corner. Then, when you attend the taping of The Osbournes we will collect your ticket and mark how many people are in your party. The number of priority tickets you receive will be the same as the number of people in your party when you attend The Osbournes! You will then receive an email from us the first week of 2009 with a priority code and instructions on how to redeem your priority tickets. This offer is valid for any show on our calendar throughout 2009 EXCEPT Hannah Montana.
For more information and to print free tickets please use the following link:
http://www.ocatv.com/shows/show/237
And if you need one last reason to convince you to be part of the primetime show; with today's economy, how many fun events filled with live music, performance, and comedy can you name that are FREE...?