Boomtown, you are not my father!
NBC screwed themselves with their Friday night line up. About a year ago, they lead the non competitive night with
"Providence,"
"Dateline," and "Law & Order: CSIish." Then the star of the still popular and watched "Providence" got pregnant and the brass at NBC kick the show in the ass. I don't know if the pregnancy had something to do with it, but it would mean shooting around the star's new schedule. They could've put it as a midseason replacement like they are doing with "Crossing Jordan," but instead they let it go. Now that show is gone.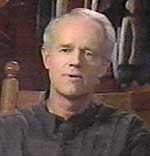 "Remember me? I ruined M*A*S*H."
NBC put in "ED," the not so watched, but continually renewed drama about a guy who bought a bowling alley in his hometown where his high school sweet heart lives. The plots for this show are endless. Oh wait, no they're not.
Audiences gave a no to the show. In fact there were studies that people were so bored by the show, that they moved back to their hometowns and went bowling. (Ok, it's not that funny.)
Now this season NBC moved "Law & Order: SUV" to the wounded animal that is their Tuesday night line up. That show is doing really well in the new slot, but Friday at ten is dying.
It reminds me when my father left my mother after he finished medical school for a younger woman. Even though my mother supported him throughout his studies, he decided things weren't working out once his private practice started to take off.
He moved to a rich suburb, bought a big house and sent his new kids, Hunter and Tyler, to private school. Meanwhile, my mom needed to take on two jobs since the child support checks weren't coming in, and we had to live in a two room apartment above my grandparents garage.
But now NBC has taken "Boomtown" off the sched, moved "Mismatched" to 9 PM and Dateline and sometimes "Queer Eye" to 8 PM. At 10 PM, are reruns of "Law & Order: MD."
Reruns. Reruns! Not new episodes! But leftovers. Am I not good enough? This sucks. This is like the time my dad came back for two weeks when Julia kick him out. We didn't get all his attention, but that was supposed to be ok. Well it's not! This stinks. Either put "L&O: Railroad" back on Fridays or just go away. I'm very fragile.
(Ok, that's not even anywhere near to being true about my dad. But you get the point.)